If I should phrase our passionate work in Maastricht: 
"We are living our dream".
I would like to take you back in time and tell you a little bit about our background, work and togetherness!
Martijne and I are so different in person, style, way of thinking, but we share the same passion for love in each other and the love for creating endlessly...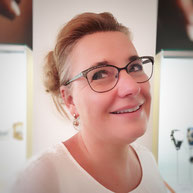 About Martijne van Vught, born on January 17th 1971 in Utrecht, the Netherlands.
After high-school, as a teenager she knew instantly what to do in life and that would be a creative technician, a goldsmith!
A goldsmith's craftsmanship study, 5 years at Schoonhoven, the Netherlands a school for Jewelers, watchmakers and goldsmith's and graduated in 1996 as a Master goldsmith, a true master technician which became dandy handy 15 years later. Just read on, you will see....
In 1997 she started to work as a sales-representative at the Cartier Boutique in Amsterdam.
One year later, she met Philippe who also joined Cartier, instantly passion at work...
A mild, smooth, organised caracter met a creative hurricane! Together designed the Limited Edition Cartier 'Amsterdam Tank Watch' in 2000, which only 100 pieces were being made and sold.
In 2001 Martijne decided to leave Cartier, for the passion for goldsmithing and started to work at GASSAN DIAMONDS Amsterdam. In 2006 she decided to leave her employer and start her own workshop named 'sMooi''. A very small, busy, creative and commercial goldsmith in the historical city centre of Utrecht, the Netherlands. Philippe, now her husband (married 2006) is still working at Cartier. In 2010, Martijne and Philippe start to write a commercial masterplan: "Realising the Dream of Étoile Maastricht".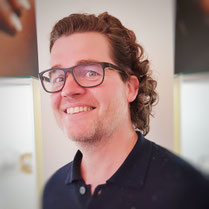 About Philippe Disse, born November 9th, 1970 in Maastricht.
During high-school, as a nineteen your old student recommended to take artistic guidance at the Art Academy in Maastricht, followed by the Higher Institute of Fine Arts in Antwerp, Belgium as a conceptional artistic designer and goldsmith (1990 until 1997).
With his creative knowledge he started to work at Cartier in 1998. Passionate about sales and management within this beautiful French company decided to leave and follow his creative instincts. In 2008 decides to become an independent artist.
Early 2010 the beginning of constructing and planning to open a shop named 'Étoile'. In September 17th. 2011 they opened their jewelry store in the stylish and historical district of the Netherlands, the Stokstraat number 9 in Maastricht, the Netherlands.
Philippe is known for his endless passion in 3D creating 'things' and 'stuff'. A never ending creative sandstorm working passionately along his quite, anchor and overviewing beloved partner Martijne who's responsible for the technical production of Philippe's brainwaves.
While Philippe may think anything is possible to create and make, Martijne will tell him to work intensively again from scratch because of possible technical difficulties. The succes-factor of both is creativity meets technical mastership in jewelry-design and production!
Martijne & Philippe's own independent labels. Their creativity and productivity in store shown chronologically:

BONAPARTE JEWELRY since 2011
In 2011 they started the design, production and birth of the BONAPARTE JEWELRY collection. Turns out to be a great 'ajour' succes! ['Ajour' means open, mostly structural designed jewelry].
The first BONAPARTE model named "VERSAILLES" until the latest design within the Bonaparte collection is the golden "MOULIN ROUGE" ring with diamonds. Originally a jewelry collection where only silver and 18 karat gold material should rule the finger without any gemstone involved. Works very successfully but a diamond once in a while never hurts the eye. More about this collection on this website HERE
MUSTANO HORSEHAIR BRACELETS since 2012
Started early 2012 by creating something different for men.
Philippe's personal project 'curved clasp' became a pleasant mechanical design for the very fine produced and braided horsehair they collected. Nowadays, Mustano bracelets are sold worldwide at jewelry stores and the horsehair-braids are still braided with most care.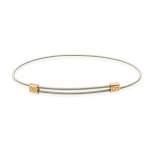 The INFINITY BRACELETS since 2015
Designed and produced as from May 2015.
A unisex bracelet created form a single simple guitar-string with handmade silver or bronze 'infinity' sliders.
A true 'less is more' and ultimate DutchDesigned bracelet for only € 29,- including worldwide shipping.
The first online product Étoile created to discover and reach an international online crowd.
Simplicity is key! All you need is Less ;)
The INFINITY bracelets are available online HERE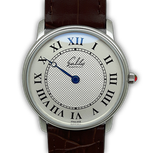 The GALILEO WATCH since 2016
A true watchlover's dream by Philippe! To 3D design and create a watch to honour a scientist who was a true pioneer in tell and explain phenomenon 'time',  Galileo Galilei. Starting to observe our very moon 1609 until the knowledge of earth's gravity, Galileo is a true source of existence of time as we know it today.
With the help of dedicated watch friends in well known corners, the first limited Edition of the Galileo Watch was launched in september 2016. Following limited edition Galileo Watches have been created:
"Discovery of time" 25 pieces produced and sold - "Explore Jupiter Moon" 52 pieced produced and sold - "Universo Autonomo" 20 pieces created as a corporate edition - "Linea Libertas 2018" 40 pieces as a corporate edition - "Observation of Mars" 100 pieces created and still available in store or online. 

TULP JEWELRY since 2018
A true colorful jewelry delight, officially to be launched in May 2018.
Until the end of 2017 we did not really create a colourful gemstone collection, for we had a brilliant alternative on board.
During the years, we discovered to be certain to create our own brand as subject: fields of colors, translated in colorful gemstones and jewelry. Gemstone jewelry are created since the birth of beauty. Passionately designed and produced by Martijne & Philippe. Truly designed and handmade in Maastricht makes it independent and therefor can be considered like little Masterpieces. A true endorsement at excellent value!