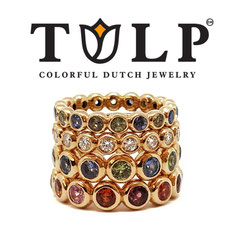 After almost 7 years jeweller Étoile Maastricht shoots in full color gemstone treasury!
I'm sure you will know many famous brands who create beautiful color gemstone jewelry, and 'TULP jewelry' will join them!
As from now, a new young Dutch fine and colourful jewelry brand will emerge from devotion, creativity and craftsmanship. 18 karat gold timeless stacking- and colourful gemstone-rings to emphasise the color-power of natures treasures
The 'TULP' collection is a handmade jewelry collection created by designer couple Martijne van Vught and Philippe Disse of Étoile Maastricht and will be uniquely presented and sold in their store in Maastricht. Colors of this very collection are always surprisingly different, vivid and powerful. Always changing and always cheering! Choose, share and create your 'bouquet' in color.