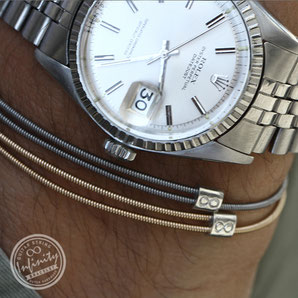 Our passion for creating timeless jewelry can be só simple sometimes...
• One guitar string...
• Two 'infinity-symbol' engraved 925 Sterling silver or genuine bronze adjustment sliders...
• Fits his and her wrist, twenty-four-seven, day & night!
To be worn stylish solo on the wrist or accompanied with other owned wrist candy!
The first 'Infinity' guitar string bracelet was created in July 2015 and is still sold successfully worldwide through our 'Étoile Maastricht' webshop.
The silver and bronze 'infinity' sliders all handmade by Martijne in our workshop. Every bracelet is carefully sized to our customers fit. Please see the design-process below.
Passion for our 'Infinity Bracelets' collection starts at € 29,- including originally gift wrapped in vintage music sheet paper and free worldwide shipping! Order HERE directly.

JUST INFINITY DESIGNED & HANDMADE BY TEAM ÉTOILE SINCE 2015
"JUST INFINITY"  LOOKBOOK: