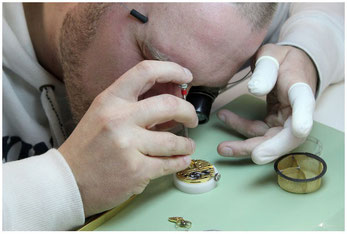 How to learn to create and build your very own mechanical watch in ONE day! 
Yes, it's Time and possible!
In just one day you will learn the very basics and principals of watchmaking!
Thanks to a highly professional team of German and Dutch watchmakers you can and will learn how a mechanical watch works and eventually build one. Your very own watch-mechanism (Unitas-Calibre), your watchcase, your preferred color dial and even a decorated 'Perlage' is one of many options to customise your time-piece 'Made by Myself' in stead of Switzerland!
Every seminar is limited to maximal 6 person per seminar, meaning you can really learn and work intensively together with Master watchmakers.
Sounds nice? Take 2 minutes and read below all about that Watchmaking:
THE WATCHMAKING SEMINAR IN ONE DAY:
This ONE day Watch seminar starts at € 890,-
That's a full day of watchmaking experience and creating your very own watch!
(Many other secundair options to decorate your piece are possible)
HOW TO PARTICIPATE, LEARN, CREATE AND ENJOY YOUR WATCH SEMINAR:
08.30 hrs. ON EVERY SCHEDULED SATURDAY
Location "TimeLodge" in Voorschoten, the Netherlands.
(30 minutes by train form Amsterdam Central Station)
08.45 hrs. PRESENTATION INTRODUCTION WATCHMAKING TECHNIQUES
In 30 minutes you will learn the basics and look closer at a 6497 Unitas handwind mechanism.
This 6497 Unitas will be your very own mechanism you will work with and take home to tell Time later!
9.30 hrs. WATCHMAKING TIME
Now it's time to dismantle, clean and polish the mechanical parts of your 6497 Unitas Calibre watch mechanism.
Your will work closely with one of the Master watchmakers present to guide you.
12.30 until 13.15 hrs. LUNCHTIME 
You will enjoy a delicious warm biological lunch with coffee or tea.
(coffee, tea and other drinks you can enjoy during your seminar)
13.30 hrs. WATCHMAKING AND DECORATING YOUR TIMEPIECE
Now you will learn how to create the method and decoration of 'Perlage' on the watch-bridges.
Followed by gold-plating, cleaning, work with calibre-oil and re-build your eventual unique watch.
Now it's Time to choose your dial, Black, White or Blue and of course your the watch-hands!
Finally choose your watch-strap and go straight to test your time-piece for water resistance and stability.
17.30 hrs. TIME TO SHOW-OFF!
At the end of your seminar you will be the proud creator and owner of your very own Watch.
Not only you wear something you have created yourself, but experienced a day you'll never forget.
You know a great deal about watchmaking and you can tell time you have created yourself with other watch enthusiasts!
IMPRESSION OF THE WATCH SEMINAR: