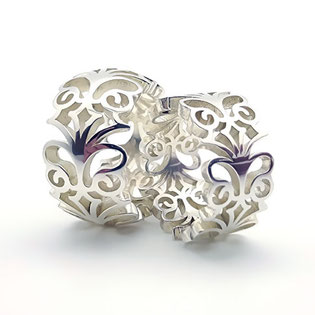 "One of Étoile Maastricht's jewelry icons would be the Bonaparte 'Versailles' ring".
Philippe disse, designer at Étoile Maastricht.
The ring is according to it's name inspired by the beautiful gardens of Versailles.
It's remarkable shapes and twists make the design of ring so special that actually the complete Bonaparte collection is shaped around this particular 'Versailles' ring model. The first 'Versailles' model was designed in November 2011 by Philippe Disse, a few months after opening the Étoile Maastricht store. The actual first 925 Sterling silver models were realised early February 2012, the 18 karat pink golden one a month later.
"I remember the reaction of my wife, Martijne, she was totally enthusiastic about the first 3D designes after showing it roughly drawn. A few months later she wore the 18 carat pink golden on her finger, she still does.... every day, even when working in the workshop, working on new Bonaparte models!". A design build to wear and admire!
Concept:
The base is simplistic, the organic and curly shapes versus the triangle form which 'break' the the sequence and frequency in it's design, that makes it special to look at. The repetition and symmetry makes it unstoppable to stare and wear!
The Bonaparte 'Versailles' ring is the first model in it's collection and was the inspiration to design more conceptual designs like the Bonaparte ring models carrying the names: 'Lille', 'Saint Tropez', 'Paris', 'Verona' and many more.
Click HERE to get inspired by the collection!
The Bonaparte ring collection start at € 169,-
The Bonaparte jewelry is designed by Philippe Disse, handmade with upmost passion by Master goldsmith Martijne van Vught and only available at Étoile Maastricht or at the Etoile web-shop / online.
Foto banner: The Versailles Castle gardens in France France.
Photo banner: Versailles gardens, France
Photo below: Martijne van Vught working at Étoile Maastricht with the Versailles rings.
---