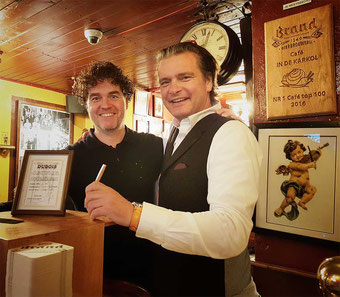 Oktober 2018:
Proudly launched our newest accessory named 'DUBOIS' which latterly means 'made from wood'.
In august this year, Barth Hochstenbach, owner of café bars 'In de Karkol and 'In de Moriaan' donated a beautiful chair of his bar. From this chair, Philippe Disse sawed the chair's legs, destined to become wooden ballpoints!
Eleven beautiful ball-points where produced by DOCK67, licensed to work for DUBOIS / Étoile Maastricht.
Every DUBOIS ballpoint comes with a certificate of authenticity.
Price of one DUBOIS 'In de Karkol' ballpoint in the Étoile Maastricht store: € 69,-
Online: € 75 (including shipping)
DUBOIS will launch a new edition: "Onze Lieve Vrouwe Basiliek' Maastricht.
Ballpoints made from oak-wood from bell-tower the Basilica of Maastricht

One of the eleven wooden DUBOIS ballpoints, made from an authentic wooden chair of café/bar "in de Moriaan" Maastricht.