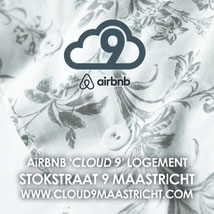 PLAN YOUR MAASTRICHT STAY & VISIT...
I you are planning your visit and stay in Maastricht (the Netherlands) you could consider to book an experience in stead an hotel...
CLOUD 9 is located in the most beautiful, bourgondic, exclusive and historical area of Maastricht city center, is well accommodated with lot's of extra's, personal attention and at reasonable (Airbnb) price!
Location & Address apartment: Stokstraat 9 - NL6211 GB - MAASTRICHT - the Netherlands.
Check your stay and availability: www.cloud9maastricht.com