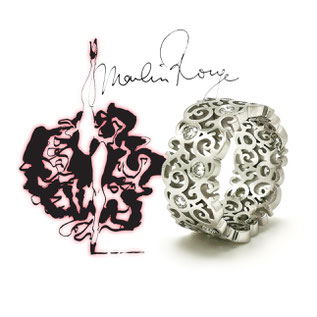 the MOULIN ROUGE ring
Designer Philippe of Étoile Maastricht does not need much inspiration when it comes to exotic things....
Inspired by the Moulin Rouge 'Can Can' dancers he designed the Bonaparte 'Moulin Rouge' ring.
"Sweeping curly ropes flying around teasing the eye of (wo)men!
Synchronised swirling moves just hypnotise you..."
The 'Can-Can' dancers captured in a handmade ring:
"The Bonaparte Moulin Rouge"
---
---